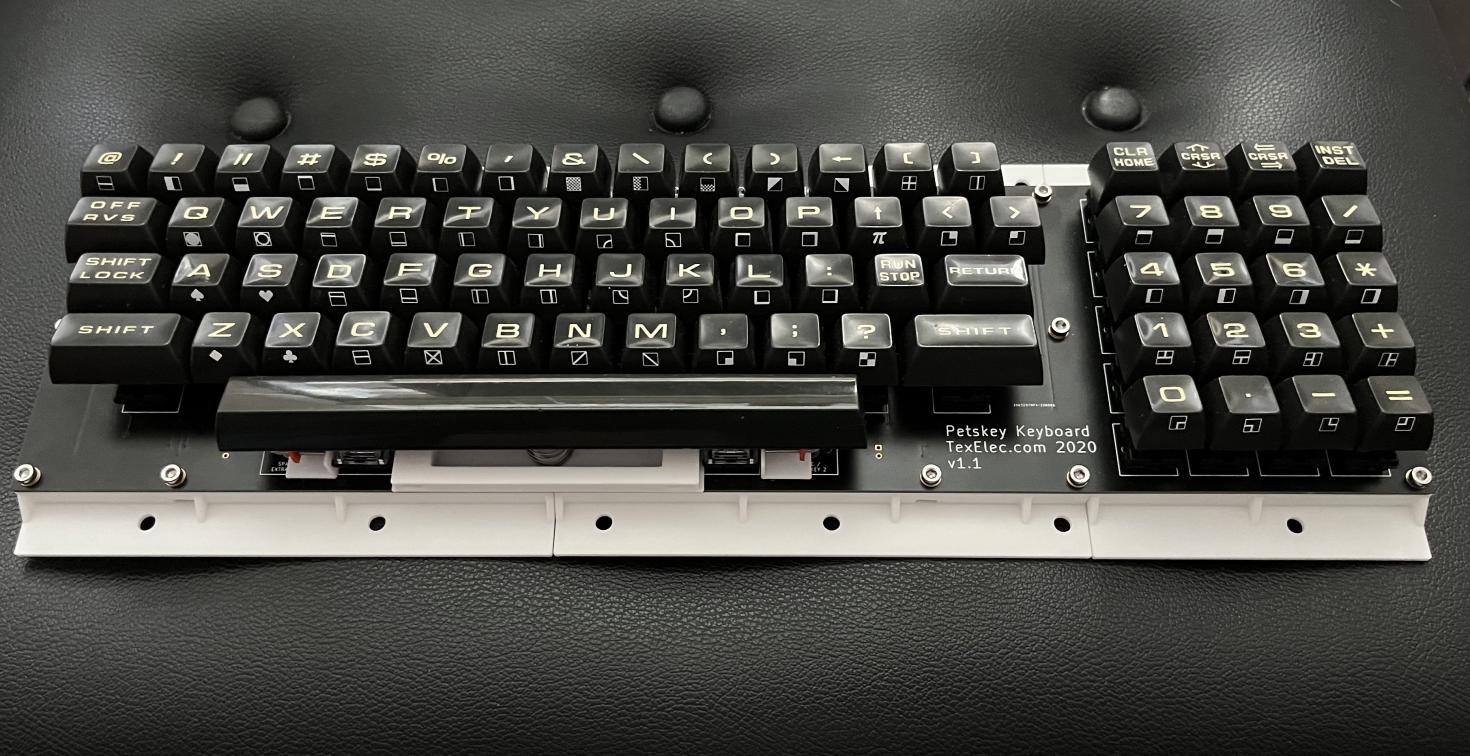 I think we can all agree, that the Commodore PET is a wonderful computer, with a terrible keyboard.
I have seen the TexElec Petskey keyboard a few times here and there in my online travels, but I've alwasy cringed at the thought installing modern key caps in a vintage computer. The mounting recommendations were rather unappealing to me as well.
As it turns out, with a little help we can install the Petskey keyboard with it's modern switches, while keeping those beautiful vintage key caps where they belong! Yes even the space bar!
The 3D models presented here are the result of many hours of lost sleep and several spools of wasted filament as I am no expert at 3D modelling. That being said, please do not expect perfection.
You will need a fairly tuned and well working 3D printer. The most finicky parts will be the keystems, as they have to cleanly slip into the MX style switch housings, and onto the stem posts. The plus shaped hole is intentionally a little small so as to stay on the cherry mx stems securely.
You might need a little manually painted support under the two mating areas where there are overhangs, but I got away without supports.
Infill I think had farily low at 13-15% Fan off for first few layers to discourage print lifting off bed.
Assembly Tips
Make sure all your switches are seating the same way. The fixation holes in the PCB design are unfortunately a little big and allow the switches to wiggle. You don't want any crooked, sticking up slightly, or tilted as this will drive you nuts later if you're anything like me.
Make sure you test the software shift-lock function on the Petskey keyboard before you fully assemble and install.
The parts should all fit together without much trouble. Don't force anything. If you find any glaring issues, let me know.
Components
| Qty | Part | Description |
| --- | --- | --- |
| 1 | PCB | Petskey Keyboard v1.1 PCB (Order from TexElec) |
| 1 | BOM | Full BOM for above. Check TexElec docs, so as to have latest. |
| 75 | MX1A-E1NW | Cherry MX Blue Clicky switch with Fixation Pins (you need the pins) |
| 1 | PLA | A full roll of PLA or PLA+ in whatever colour you want to use |
| 1 | KBD | One less than stellar Commodore Pet graphic keyboard with all the keys intact(PLEASE MAKE A CBMSKEY VERSION!) |
| 15 | M3x10 | M3x10 Socket Head Cap Screws (PCB to Plinth) |
| 4 | M3x12 | M3x12 Socket Head Cap Screws (Stabilizer clamp, card edge PCB mount) |
| 19 | M3Nut | M3 Slide in Square Nut |
If you don't want clicky keys, I suggest the MX Clear switch instead. The original keys of course did not click, so one could make a case that this should be the logical choice. I want my keys to click and annoy everyone around, but that's just me… you do you!
Stuff
Happy keyboarding everyone!
Todays soundtrack: